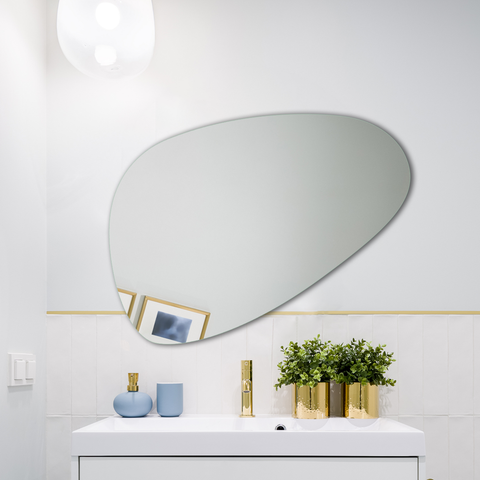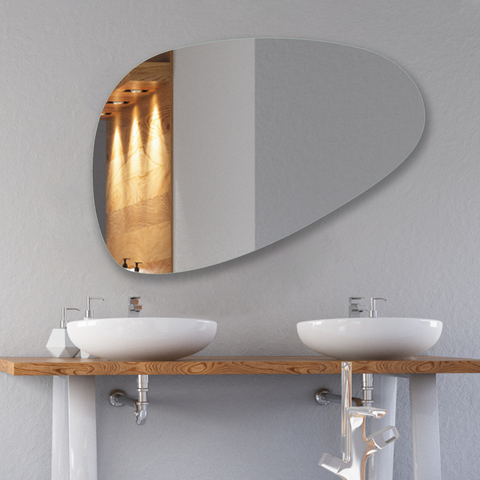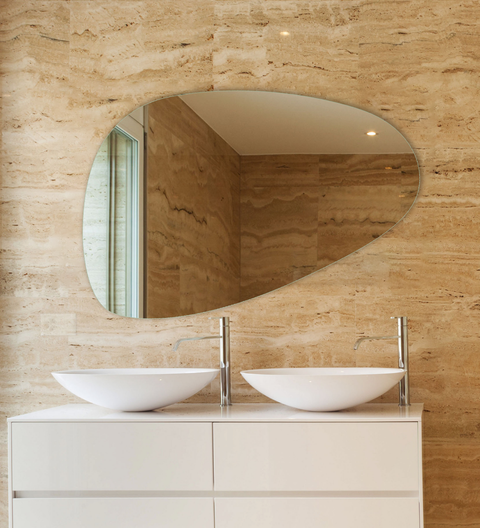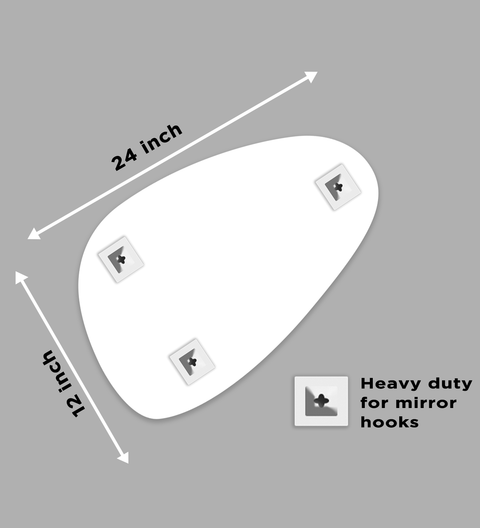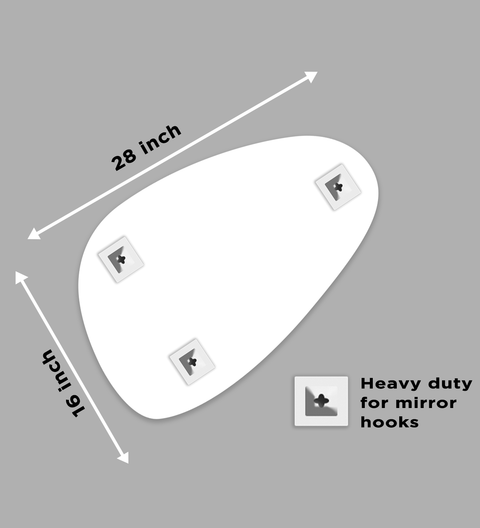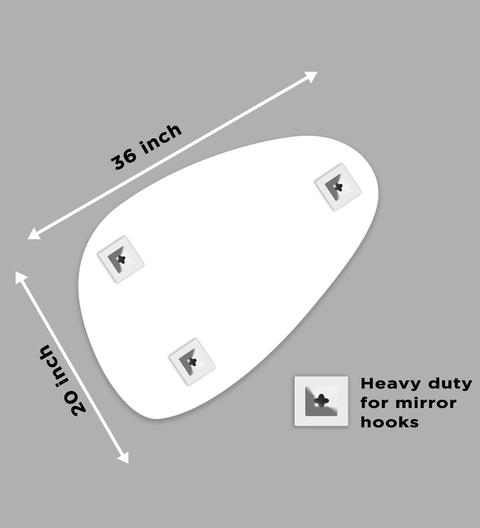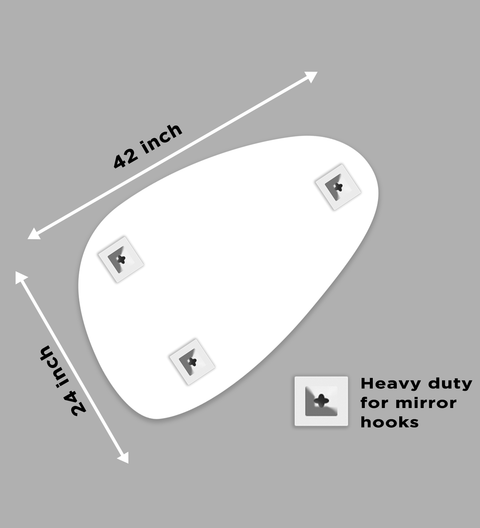 Frameless Basic Bathroom Blob Oval Mirror with PREFIXED Strong Steel Hooks for WALLMOUNT
Rs. 987
Rs. 1,958
you save Rs. 971
1-Day Dispatch

---
 Features:
Original Saint-Gobain/ModiGuard Mirror: If you're looking for Crystal-Clear High-Quality Mirror(s), Order Now! We are one of the very few Saint-Gobain's Certified Factories in India.
Multiple Shape/Size Options: You can choose from various shapes and sizes that we have to offer like Round, Square, Rectangular, Oval, and much more.
Unique Frameless Design: Our frameless bathroom mirror design provides a sleek and modern look, makes a small bathroom appear larger, and is easier to clean due to the absence of a frame.
Safe to Handle: Our frameless bathroom mirrors feature polished and smooth edges, ensuring safe handling without any risk of injury to the hands.
Strong Hooks: The hooks given at the back of the mirrors are so strong, that they can hold up to twice the weight of the mirror.
Easy to Maintain: Our mirrors are super easy to clean and maintain, just wipe them off with a soft, clean cloth after spraying them with a mirror cleaner & you are sorted.
Versatile Usage: Our frameless bathroom mirrors are versatile enough in being suitable for use not only in bathrooms but also in other living spaces as a decorative element in home décor.
Customizable options: Yes, we give a customizing option to our customers for Bathroom Mirrors, thus allowing them to create a piece to their own liking. This can be a great feature for those who want to add a personal touch to their wall decor. Just reach us via WhatsApp at +91-80-7003-7003 to know more about this option.
100% Safe Delivery: We stand committed to delivering unbroken, undamaged mirror(s) to your doorstep. If you still get a damaged one, we guarantee to replace/refund your order. All mirrors are professionally packed & sent via Bluedart across India.
Customer Care: Call: 0181-462-3295 or WhatsApp: +91-807-003-7003. We will be happy to help.
Factory Price: Since there isn't any middleman, you get mirrors directly from our factory at the factory price.
100% Secure Payments: We accept Credit Cards, Debit Cards, Net Banking, UPI & Paytm.
Packaging: 
---
The mirror is wrapped in protective foam to prevent damage during shipping
Includes mounting hardware (screws and wall anchors)
There are 4 screws and dowels in the package.
---
Need Help? 
Please call us at 0181-462-3295, Email us at sales@flairglass.in, or Chat Live.
---
Certifications::
---
Our Commitment :
We at Flair Glass, stand behind every product we sell. Our commitment to high-quality products is unwavering. However, under rare circumstances, if you still find any problem, don't hesitate to get in touch with us. Call 0181-462-3295 or Email sales@flairglass.in, We will be more than happy to assist.
If you require a different size, we will be happy to customize it for you, please call us.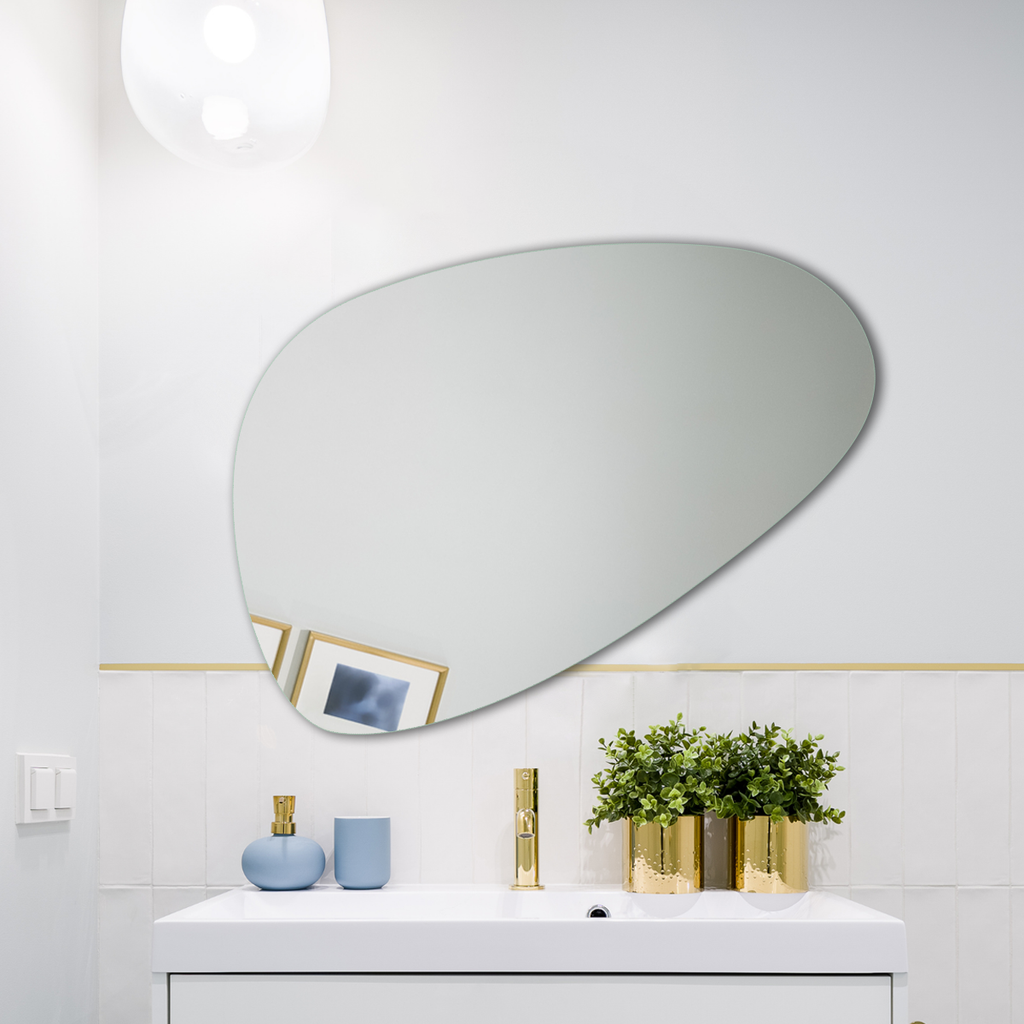 Frameless Basic Bathroom Blob Oval Mirror with PREFIXED Strong Steel Hooks for WALLMOUNT
Good product
Nice product .. delivery on time.. packing excellent. Full marks.
Transform the ambience of any room in your home with Flair Glass' stunning Art Deco frameless mirror. Perfect for your bathroom, living room, or dressing room where you want to add a touch of elegance and sophistication.
Our mirrors are made from high-quality Saint-Gobain/ModiGuard glass that complies with all health standards and is lead-free, ensuring they're safe for you and your family.
Our frameless mirror features a sleek and stylish silver base design and is available in small, medium, and large sizes to suit any space. It's perfect for adding a touch of special charm to your home décor and can be used in a variety of rooms including the bathroom, bedroom, dining room, hallway, home office, study, kitchen, porch, living room, conservatory, garage, and more.
The mirror comes with pre-fitted Steel STAR hooks on the back, positioned both landscape and portrait for versatile mounting options. Installing it is easy - simply hang it directly from the screws provided in the package on the wall equidistant to the centre of the STAR hooks to enjoy the perfect fit.
Flair Glass offers an extensive range of mirrors for homes, offices, hotels, etc. We provide All-India free delivery with the Safest Packaging standards in the industry with help of Industry Leading Logistic Services (Bluedart and Shiprocket) so that you can enjoy a safe and secure delivered product. Upgrade your home décor with our beautiful mirrors today!
| | |
| --- | --- |
| Style/Name of products | Frameless Basic Blob Oval Mirror |
| Model Number | FG-BBOM-1224/FG-BBOM-1628/FG-BBOM-2036/FG-BBOM-2442 |
| Material Used | Saint-Gobain/ModiGuard 6mm Silver Mirror |
| Mirror Shape | Oval |
| Frame Type | Frameless |
| Mount Type | Wall Mounted |
| Orientation | Horizontal / Vertical |
| Dimensions | (Width x Height) |
| Sizes | (12x24 inch)/(16x28 inch)/(20x36 inch)/(24x42 inch) |
| Thickness | 6 mm |
| Max Weight | 2.8Kg/4.5Kg/7kg/10.8kg |
Rate & Review