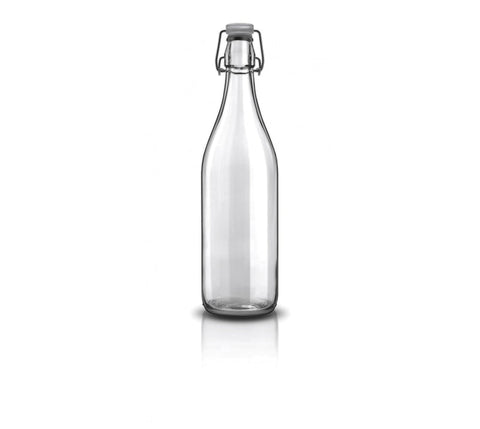 Brogonovo Lella Glass Bottle - 1 Ltr.
Rs. 800
Rs. 1,000
you save Rs. 200
Ships in 3-5 Days

---
With a modern and distinguished design, these Swing bottles are a great addition to any countertop or dining area. Hand washing is recommended without any cleanser for the gasket and the metal ring. The bottle is not suitable for containing sparkling drinks.

An Original Italian Brogonovo Lella Glassware range.

Pack of 1
Capacity: 1000ml each
Origin: Italy
Why buy from us?
Original Product: Trust Us! We say big no to duplicate/look-a-likes.
100% Safe Delivery: We stand committed to deliver you unbroken, undamaged glassware at your doorstep. Incase you still get a damaged one, we guarantee to replace/refund your order, just Whatsapp: +91-807-003-7003. All products are professionally packed & shipped across India.
Trusted Name: You can't go wrong with us, We're a trusted name since 2014.
Quality Checks: We check every product on multiple factors before it gets professionally packed and shipped. Leave your quality-related worries to us.
Questions? Please Call: 0181-462-3295 or Whatsapp: +91-807-003-7003 . We will be happy to answer all your questions.
Quick & Easy Returns: If you find your product damaged, defective or different at the time of delivery, just return it on spot & call 0181-462-3295
100% Secure Payments: We accept Credit Cards, Debit Cards, Net Banking, UPI & Paytm.  
Our Commitment:
At Flair Glass, we all stand behind every product we sell. Our commitment to high-quality products is unwavering. Incase you find any problem, please contact us.
Specifications
Brand

Borgonovo

Type
Bottle

Model No.
BORG/LELLA/1000ml
Make
Italy
Box/Set Qty
1 Bottle

Volume (ml)
1000 ml
Care Instructions

Bottle Dishwasher Safe &

Gasket-Metal Ring Hand-wash Safe