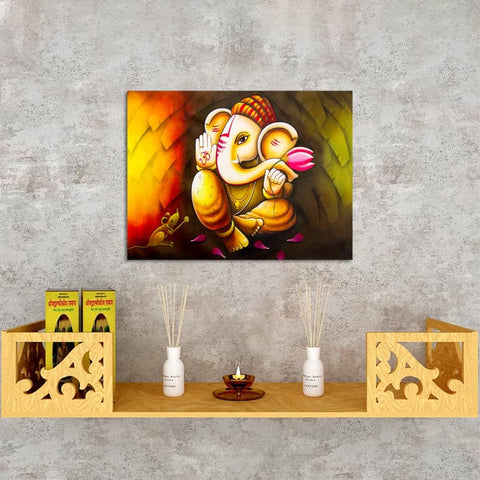 Cute Ganesha's Glass Wall Painting for Home
Rs. 1,920
Rs. 2,400
you save Rs. 480
Ships in 3-5 Days
___________________________________________________________________________________________
FEATURES: -
This Glass Wall Painting is made from robust tempered glass, making it both long-lasting and visually appealing. Its excellent quality guarantees years of reliable use and vibrant visuals with exquisite details maintained.
 Stunning designs: Our Glass Wall Art features a variety of stunning designs, from abstract patterns to nature-inspired landscapes to spiritual enlightenment. This ensures that there is a design to suit every taste and decor style.
This Glass Wall Painting is created with the latest printing technology, UV printing. This technology guarantees that each piece is a unique and high-quality work of art, with vivid colors and intricate details.
 Safe to Handle: Our frameless Glass Wall Painting features polished and smooth edges, ensuring safe handling without any risk of injury to the hands.
 Strong Hooks: Yes, the hooks given at the back of the paintings are so strong, that they can hold up to twice the weight of the painting.
 Versatile decor: Glass Wall Art is a versatile decor option that can be used in a variety of settings, from homes to offices. It adds a touch of elegance and sophistication to any space and is a great way to upgrade your wall decor.
Made to Order: No Old Stock, seriously! Every painting is prepared on order.
Easy to Maintain: Unlike other paintings, Glass Paintings are super easy to maintain. Just wipe off with a soft, clean cloth & you are sorted.
Odorless: Our glass paintings are not only odor-free but also eco-friendly.
 Light Effect: You can add more life to your painting by adding some lighting effects like a spotlight or backlight etc. be creative. (Lights not included)
 Excellent Gift: Surprise yourself or your friends & family.
 Customizable options: Yes, we give a customizing option to our customers for Glass Wall Paintings, thus allowing them to create a piece of art that is uniquely their own. This can be a great feature for those who want to add a personal touch to their wall decor. Just reach us via WhatsApp at +91-80-7003-7003 to know more about this option.
 100% Safe Delivery: We stand committed to delivering you unbroken, undamaged paintings(s) at your doorstep. In case you still get a damaged one, we guarantee to replace/refund your order, just WhatsApp at +91-80-7003-7003. We pack paintings professionally in multi-layers & dispatch them via BLUEDART across India.
Easy Returns: Please Call: 0181-462-3295 or WhatsApp: +91-80-7003-7003 immediately, if you find your product damaged, defective, or different for a return or replacement in 24 hours.
 100% Secure Payments: We accept Credit Cards, Debit Cards, Net Banking, UPI & Paytm.
PACKAGING: -
The painting is wrapped in protective foam to prevent damage during shipping
Includes mounting hardware (screws and wall anchors)
There are 4 screws and dowels in the package.
Our Commitment :
We at Flair Glass, stand behind every product we sell. Our commitment to high-quality products is unwavering. However, under rare circumstances, if you still find any problem, please feel free to contact us. Call +91-9815-999-851 or Email sales@flairglass.in, We will be more than happy to assist.

Certifications::
SUPER EASY RETURNS
0% EMI – HOW TO AVAIL
Introducing our stunning Glass Wall Paintings - a unique and captivating way to bring life and beauty to any room in your home or office. Our Glass Wall Painting is expertly crafted using high-quality, 6mm thick tempered glass that is both durable and visually striking.
Featuring a variety of stunning designs, from abstract patterns to nature-inspired landscapes to spiritual enlightenments, our Glass Wall Painting is sure to capture your imagination and add a touch of elegance to your décor. Each piece's vibrant colors and intricate details are expertly digitally printed using state-of-the-art UV print technology, resulting in a truly one-of-a-kind work of art.
Each piece of Glass Wall Painting comes ready to hang, with pre-installed mounting hardware for easy installation. Whether you're looking to transform your living room, bedroom, or office, our Glass Wall Painting is sure to make a statement and leave a lasting impression.
Upgrade your wall decor with our beautiful Glass Wall Paintings today and enjoy the stunning beauty and elegance it brings to your home or office.
| | |
| --- | --- |
| Style/Name of products | Cute Ganesha's Glass Wall Painting |
| Material Type | Saint-Gobain 6mm Toughened Glass |
| Paintings Shape | Rectangular |
| Paintings Type | Digital UV Printed |
| Frame Type | Frameless |
| Mount Type | Wall Mounted |
| Orientation | Landscape |
| L x W x T | Length x Width x Thickness-Weight |
| Dimensions 1 | (12 x 18 x 0.24 Inch)-2 Kg |
| Dimensions 2 | (18 x 24 x 0.24 Inch)-4 Kg |
| Dimensions 3 | (24 x 30 x 0.24 Inch)-6 Kg |
| Dimensions 4 | (28 x 36 x 0.24 Inch)-8 Kg |
| Model Number | SLGMCOP-011218/SLGMCOP-011824/SLGMCOP-012430/SLGMCOP-012836 |
Rate & Review