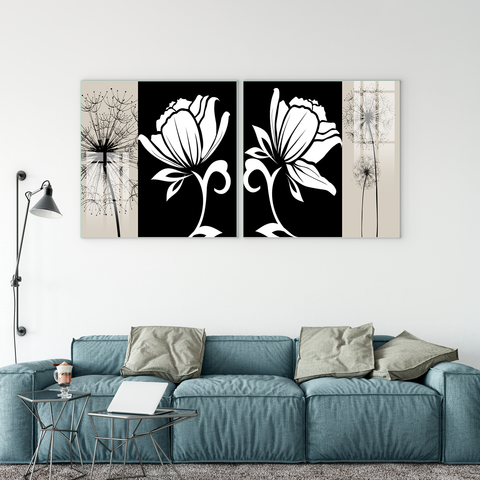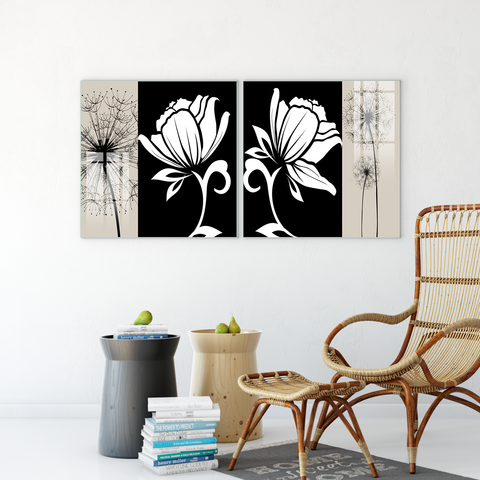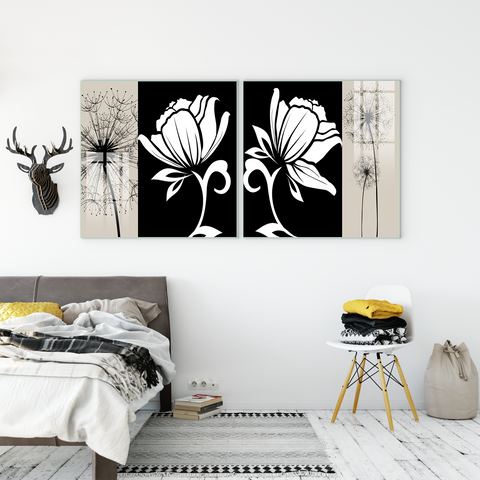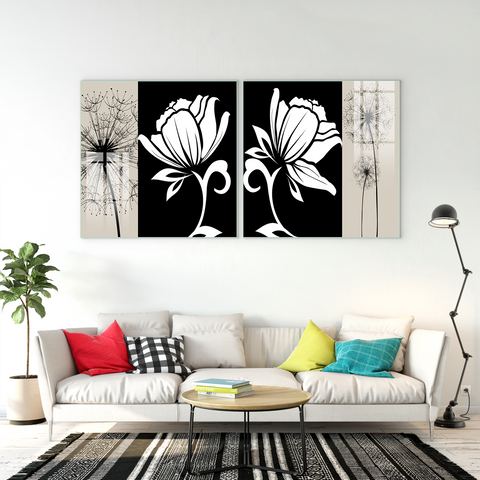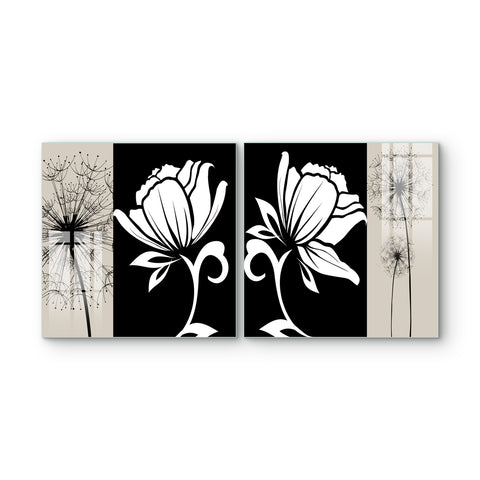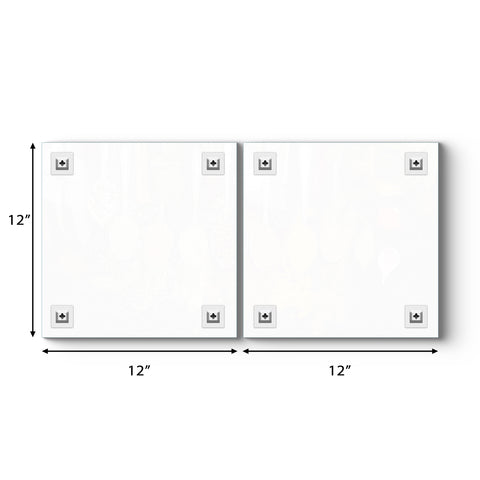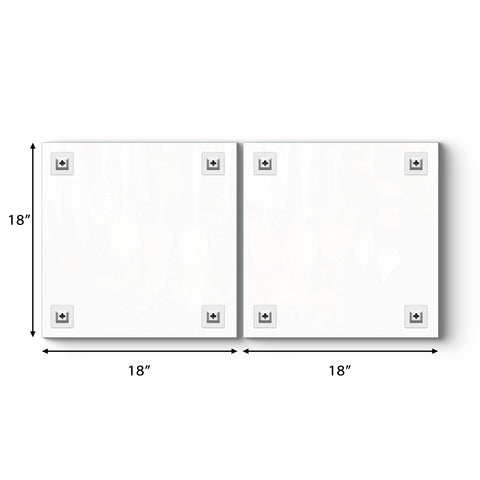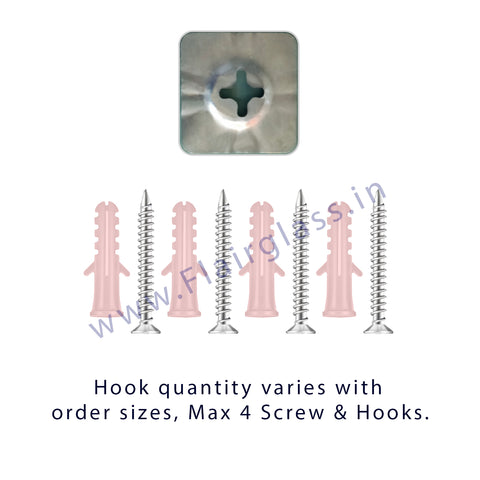 Beautiful Multiple Frame Colorful Wall Painting for Living Room: Black and White floral abstract art
Rs. 1,680
Rs. 2,400
you save Rs. 720
Ships in 3-5 Days

---
 FEATURES: -
High-quality Tempered Glass: Our Glass Wall Painting is crafted from high-quality tempered glass, making it both durable and visually striking. This ensures that the artwork will last for years to come and maintain its vibrant colors and intricate details.
Stunning designs: Our Glass Wall Art features a variety of stunning designs, from abstract patterns to nature-inspired landscapes to spiritual enlightenment. This ensures that there is a design to suit every taste and decor style.
State-of-the-art printing technology: The vibrant colors and intricate details of each piece of Glass Wall Painting are expertly printed using state-of-the-art UV printing technology. This ensures that each piece is a truly one-of-a-kind work of art.
Safe to Handle: Our frameless Glass Wall Painting features polished and smooth edges, ensuring safe handling without any risk of injury to the hands.
Strong Hooks: Yes, the hooks given at the back of the paintings are so strong, that they can hold up to twice the weight of the painting.
Versatile decor: Glass Wall Art is a versatile decor option that can be used in a variety of settings, from homes to offices. It adds a touch of elegance and sophistication to any space and is a great way to upgrade your wall decor.
Made to Order: No Old Stock, seriously! Every painting is prepared on order.
Easy to Maintain: Unlike other paintings, Glass Paintings are super easy to maintain. Just wipe off with a soft, clean cloth & you are sorted.
Odorless: Our glass paintings are not only odor-free but also eco-friendly.
Light Effect: You can add more life to your painting by adding some lighting effects like a spotlight or backlight etc. be creative. (Lights not included)
Excellent Gift: Surprise yourself or your friends & family.
Customizable options: Yes, we give a customizing option to our customers for Glass Wall Paintings, thus allowing them to create a piece of art that is uniquely their own. This can be a great feature for those who want to add a personal touch to their wall decor. Just reach us via WhatsApp at +91-80-7003-7003 to know more about this option.
100% Safe Delivery: We stand committed to delivering you unbroken, undamaged paintings(s) at your doorstep. In case you still get a damaged one, we guarantee to replace/refund your order, just WhatsApp at +91-80-7003-7003. We pack paintings professionally in multi-layers & dispatch them via BLUEDART across India.
Easy Returns: Please Call: 0181-462-3295 or WhatsApp: +91-80-7003-7003 immediately, if you find your product damaged, defective, or different for a return or replacement in 24 hours.
100% Secure Payments: We accept Credit Cards, Debit Cards, Net Banking, UPI & Paytm.
PACKAGING: -
The painting is wrapped in protective foam to prevent damage during shipping

Includes mounting hardware (screws and wall anchors)

There are 4 screws and dowels in the package.
Our Commitment : 
We at Flair Glass, stand behind every product we sell. Our commitment to high-quality products is unwavering. However, under rare circumstances, if you still find any problem, please feel free to contact us. Call +91-9815-999-851 or Email sales@flairglass.in, We will be more than happy to assist.

Certifications::
SUPER EASY RETURNS
0% EMI – HOW TO AVAIL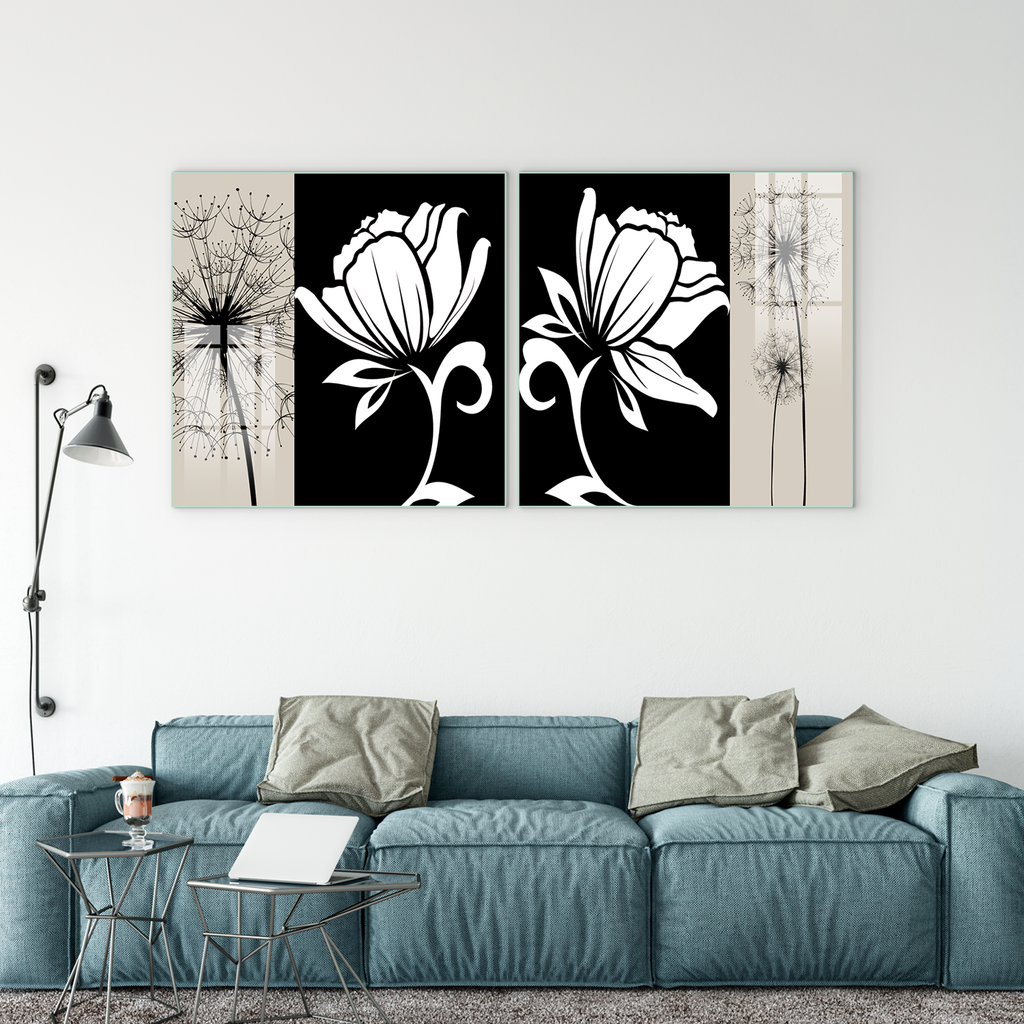 Beautiful Multiple Frame Colorful Wall Painting for Living Room: Black and White floral abstract art
Introducing our Stunning Glass Wall Paintings - Transform any room in your home or office with our Splendid Glass Wall Paintings. Crafted with high-quality 6mm tempered glass, our unique designs range from abstract to nature-inspired landscapes and spiritual themes. Using state-of-the-art UV print technology, the vibrant colors and intricate details result in a one-of-a-kind work of art. Each piece comes with pre-installed mounting hardware for easy installation. Elevate your decor with our beautiful Glass Wall Paintings and enjoy their stunning beauty and elegance.
| | |
| --- | --- |
| Style/Name of products | Black and White floral abstract art |
| Material Type | Saint-Gobain 6mm Toughened Glass |
| Paintings Shape | Square |
| Paintings Type | Digital UV Printed |
| Frame Type | Frameless |
| Mount Type | Wall Mounted |
| Orientation | Vertical |
| L x W x T | Length x Width x Thickness-Weight |
| Dimensions 1 | (12 x 12 x 0.24 Inch)-2 Frames |
| Total Size | (24 x 12 x 0.24 Inch)-3 Kg |
| Dimensions 2 | (24 x 24 x 0.24 Inch)-2 Frames |
| Total Size | (24 x 48 x 0.24 Inch)-9 Kg |
| Model Number | BWFA-051212/BWFA-052448 |
Rate & Review