Elliptical Moon Shine - LED Bathroom Mirror - Natural White Light - Rectangular
Rs. 10,572
Rs. 19,363
you save Rs. 8,791
1-Day Dispatch
Mirrors with Defogger might take 2-4 Days

---
Product Details
High-Quality Mirror: Our mirrors are made from Saint-Gobain/ModiGuard glass, ensuring crystal-clear, high-quality reflection. As one of Saint-Gobain's certified factories in India, we take pride in delivering superior-quality mirrors to our customers.
Demister/Defogger Pad: Our mirrors come with an Option to Choose a demister pad, ensuring that they remain fog-free even in the steamiest of bathrooms.
Touch Sensor Switch: Our All-Led Mirrors come with a convenient touch sensor switch, it's easy to turn on and off the LED lights and demister pad.
Shadowless View: Eliminate shadows on your face and enjoy a fully illuminated reflection with our modern and chic backlit mirrors. Perfect for makeup application, shaving, or self-reflection.

Energy-Efficient LED Lighting: Our LED lighting is energy-efficient, long-lasting, and provides bright, clear illumination without any harsh glare.
High-Quality Materials: Crafted with premium materials, our LED mirrors feature high-quality LED lights and electronics. We offer a 6-month warranty on both Led Light and included electronic components, ensuring durability and a modern aesthetic.
Choice of Lightning: The LED lighting in the backlit mirrors exists in Warm and Natural White Color temperatures to go together with one's complexion. It is also high in quality and gives you an unblemished, pure, and extensive glow. This lets you complete your task easily knowing the light is perfect on each part of your body.
Easy Installation: Our mirrors are designed for easy installation, with pre-drilled holes and wall-mounting hardware included.
Multiple Shape and Size Options: Choose from a variety of shapes and sizes to fit your space and personal style. Our options include round, square, rectangular, oval, and more.
Strong Hooks: Our mirrors feature strong hooks that can hold up to twice the weight of the mirror, ensuring a secure and stable installation.
Easy Maintenance: Our mirrors are easy to maintain and clean. Simply wipe with a soft, clean cloth after spraying with a mirror cleaner.
Versatile Usage: Our LED mirrors are not just for bathrooms but also make an elegant decorative element in any living space.
Customizable Options: We offer a customization option for customers looking to add a personal touch to their wall decor. Contact us via WhatsApp at +91-80-7003-7003 to learn more about this feature.
100% Safe Delivery: We stand committed to delivering you unbroken, undamaged mirror(s) at your doorstep. If you still get a damaged one, we guarantee to replace/refund your order. All mirrors are professionally packed & sent via Bluedart across India.
Technical Details:
| | |
| --- | --- |
| Lighting type | Decorative |
| LED color | Natural White Light (4500-6000K) |
| Touch | Yes |
| Cable exit | From Top |
| Mains cable length | 1.2m |
| Max Weight | 9kg |
Packaging:
Mirrors are packed in multilayer Corrugated Package boxes or Wooden Box (for bigger Sizes)
Inside Box Packaging Mirrors are wrapped in protective foam and bubble wrap to prevent damage during shipping.
Includes mounting hardware (screws and wall anchors)
There are 4 screws and dowels in the package.
Why buy from us?
Trusted Name: We're a trusted name in the glass industry since 2014.
Multiple Checks: Every LED unit goes through numerous quality checks before its dispatch.
Full Refund / Free Replacement: We stand committed to delivering you unbroken, undamaged LED mirror(s) at your doorstep still by chance if you receive a damaged one, please WhatsApp us upon receiving at +91-807-003-7003 for a Free Replacement / Full Refund. 

Friendly Customer Care: For any questions or concerns, please Call: 0181-462-3295 or Whatsapp: +91-807-003-7003.
100% Secure Payments. We accept Credit Cards, Debit Cards, Net Banking, UPI & Paytm.


Our Commitment:
At Flair Glass, we all stand behind every product we sell. Our commitment to high-quality products is unwavering. In case you find any problem, please contact us. Call: 0181-462-3295 or Email sales@flairglass.in, We will be more than happy to assist. You just can't go wrong with us.
---
SUPER EASY RETURNS
0% EMI - HOW TO AVAIL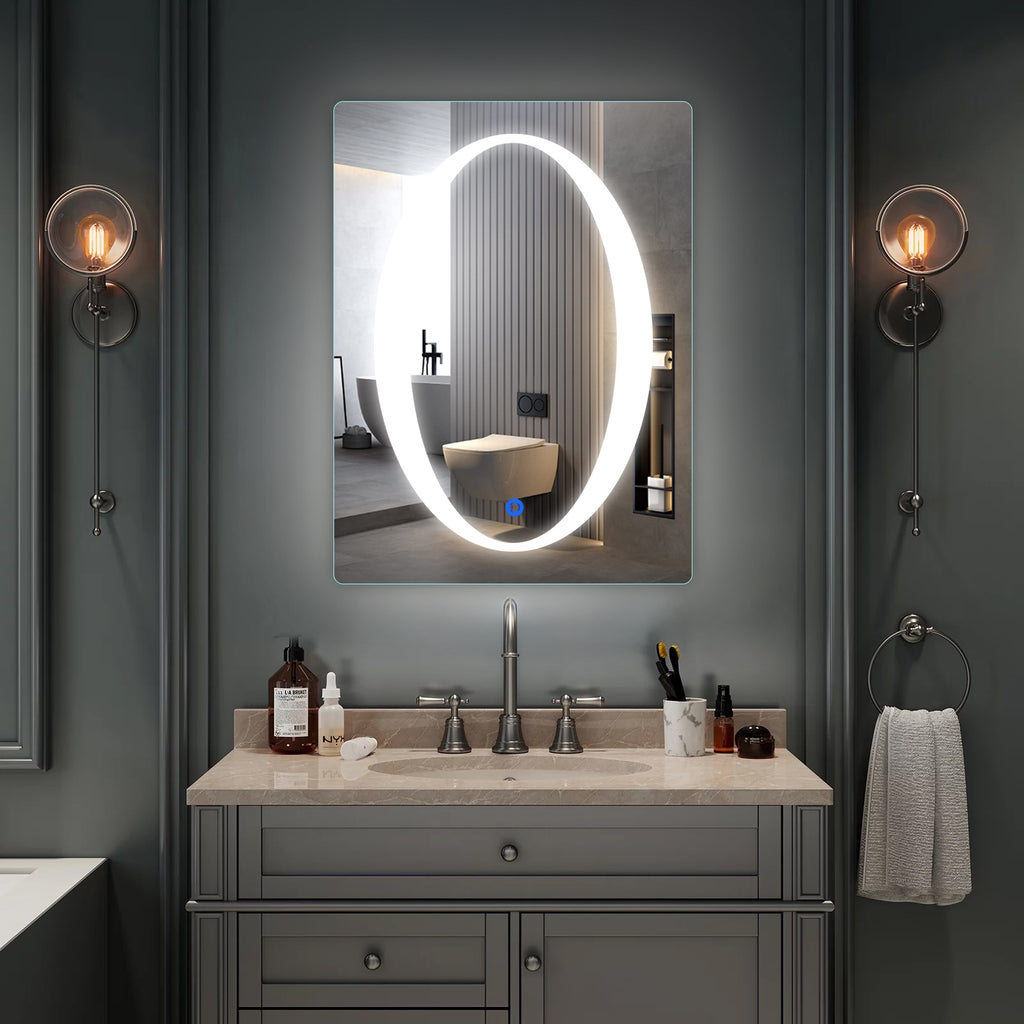 Elliptical Moon Shine - LED Bathroom Mirror - Natural White Light - Rectangular
Flair Glass LED Mirrors are a sleek and modern addition to your bathroom or dressing room. Crafted with high-quality materials, they offer bright and clear illumination without any harsh glare, thanks to energy-efficient LED lighting. LED lighting provides excellent illumination for all your grooming needs, and the mirrors are available in various sizes and shapes to suit any space.
These mirrors also provide options like a demister pad to remain fog-free and a touch sensor switch for easy control. Installation is simple with pre-fitted steel star hooks and hardware included. The durable construction ensures longevity, making Flair Glass LED Mirrors a must-have addition to any modern home.
| | |
| --- | --- |
| Style/Name of products | Elliptical Moon Shine - LED Bathroom Mirror - Natural White Light - Rectangular |
| Mirror Used | Saint-Gobain/ModiGuard Silver Mirror |
| Mirror Shape | Rectangular |
| Lightning Type | LED |
| LED Color | Natural White (4500K-6000K) |
| Touch | Yes |
| Mount Type | Wall Mounted |
| Mains Cable Length | 1.2 m |
| Cable Exit | From Top |
| Max Weight | 8kg |
| Dimension Option1/ Model | 24 x 36 inches/ LED-FG-SM-64N- 2436 |
| Dimension Option2/ Model | 24 x 36 inches/ LED-FG-SM-64N-DFOG- 2436 |
Rate & Review