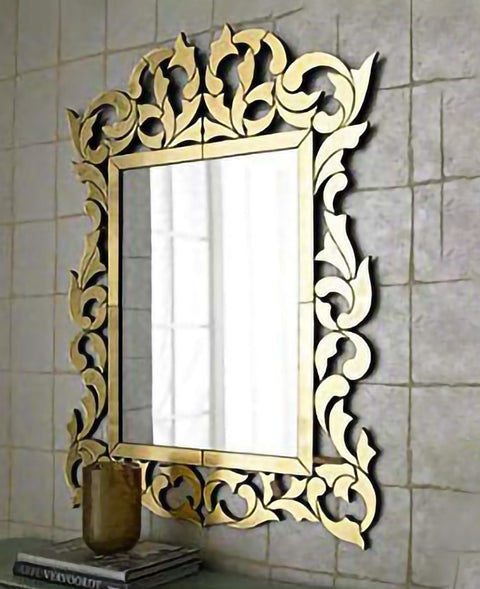 Vintage Designer Mirror
Rs. 37,900
Rs. 54,143
you save Rs. 16,243
Ships in 12 - 15 Days
___________________________________________________________________________________________
This vintage designer mirror can fit in easily with any decor!
Hand picked for its creativity, craftsmanship, and most importantly style.
Assembly: No Assembly Required
Material: Glass, Engineered Wood
Pack Content: 1 Pc
Mirror Type: Wall Mirror
Why Buy From Us?  
100% Safe Delivery: We stand committed to deliver you unbroken, undamaged mirror(s) at your doorstep. In case you still get a damaged one, we guarantee to replace/refund your order, just Whatsapp: +91-807-003-7003. All mirrors are professionally packed & shipped across India.
No Old Stock! Seriously, every mirror is made to order by our expert craftsmen. You will get a brand new mirror every time you order.
Quality Checks: Every mirror goes through multiple quality checks before it gets professionally packed & shipped.
Strong Hooks: The hooks given at the back of the mirrors are so strong, that they can hold upto twice the weight of the mirror.
Questions? Please Call: 0181-462-3295 or Whatsapp: +91-807-003-7003. We will be delighted to hear from you.
Quick & Easy Returns: If you find your product damaged, defective or different at the time of delivery, just return it on spot & call 0181-462-3295
100% Secure Payments: We accept Credit Cards, Debit Cards, Net Banking, UPI & Paytm.
Certifications::
--
Carefully created with mind, each mirror from our accumulation delineates creativity, craftsmanship, and style of the most noteworthy bore. A brightening mirror is only the correct decision for updating your home stylistic theme and guaranteeing a pleasant ordeal of your reflecting excellence. Accessible in different plans, you can make certain to discover one to coordinate your identity.